Elevate Your Networking Game with Wave Cards: Exciting New Features & Updates!
Hello, wonderful readers and beloved clients of Wave Cards!
We're over the moon to introduce some transformative updates and advancements to your Wave Dashboard, plus some spectacular news for our mobile app enthusiasts!
1. Wave Cards Mobile App – Now Available for Both iOS and Android!
Big news everyone – the Wave Cards mobile app is now open for public download on both iOS and Android platforms! Elevate your networking endeavors to unprecedented heights with the expediency of your Android device. Available on both Google Play and the App Store today!
2. Billing Just Became a Breeze with Our New Built-In Portal
Our new integrated billing portal has enabled stress-free management of your user premium plans, billing tools, and invoicing. Managing your subscription is now smoother than ever!
3. Explore Three Exciting Premium Features:
Wave Signatures: Add an exclusive, personal touch to your connections with Wave Signatures. Learn more here.

My Team: Enhance team collaboration within your Wave Dashboard. Explore now.

Virtual Backgrounds: Boost your profile's visual appeal with Virtual Backgrounds. Discover how here.
4. Optimized Contact Form for Streamlined User Experience
We've reshuffled the contact form for enhanced user input, now presenting in the order of name, Title, Company, Mobile, Landline, and Email, facilitating a more organized and efficient networking experience.
5. Facilitate Your Management with Duplicate Card Details Feature
Effortlessly duplicate card details to another card, ensuring hassle-free management of your connections.
6. Personalize with the Advanced Colour Picker
Tailor your card profile details perfectly, easily customising icons and text.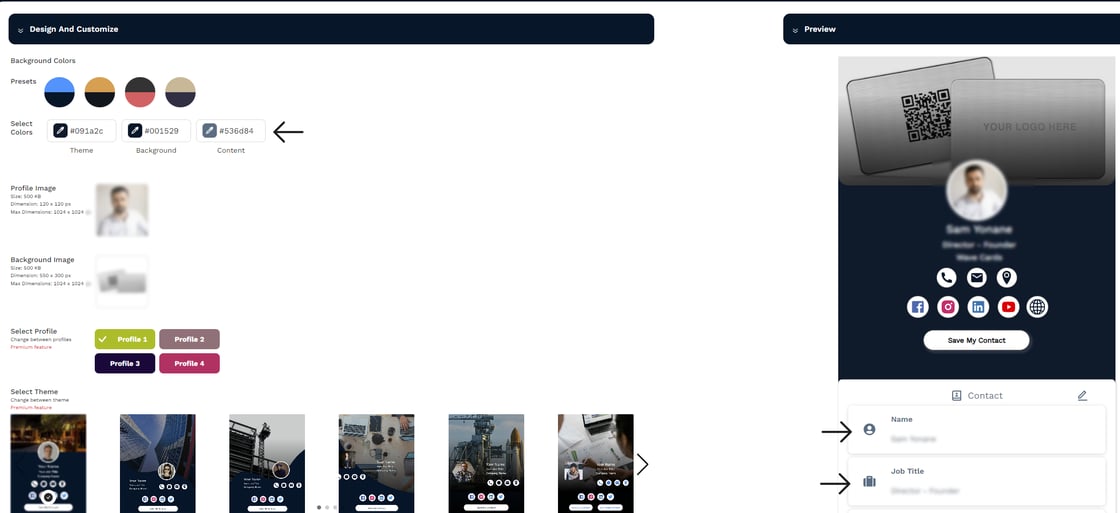 7. Enhanced Navigability with the Revamped Wave Dashboard Menu
Smooth sailing through your Wave Dashboard is now more intuitive with our restructured main menu, placing pivotal tools just a click away.
8. Manage Subusers with Enhanced Control (Coming soon)
A new Subusers page allows admins to manage assigned sub-users for each card, including the ability to reset passwords or exclude them.
9. Intuitive Sorting on the Wave Cards Page (Coming soon)
Users can now smoothly sort cards based on various preferences: A-Z or Z-A for Card names and from High to Low (or vice versa) for Total Scans.
10. Profile Grouping for Enterprise Users (Coming soon)
Organize your Wave Cards into folders and allocate group management to specified department admins, streamlining the administration and management of multiple cards.
11. A Myriad of Improvements and Bug Resolutions
In our persistent pursuit of excellence, we've enacted various enhancements and resolved bugs to ensure your Wave Cards experience remains smooth and untroubled.
Thank you for being a pivotal part of the Wave Cards community! These updates, especially the Android app launch, symbolize a crucial leap in our quest to revolutionize networking.
Stay connected, keep innovating, and perpetually create waves with Wave Cards.
Warm regards,
The Wave Cards Support Team